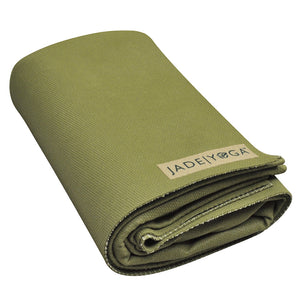 Overview
The Jade Voyager mat is extra thin and super lightweight which folds up to about the size of a yoga block to fit into your suitcase or backpack. Voyager mat is best for yogis on the go and for those who like closer contact with the ground.
Features
68" long x 24" wide (173cm x 61cm) - 680g

1.6mm thickness

99% latex free, made with natural rubber

Built with reinforced scrim which resists tearing or stretching

Made in the United States
Tips: Don't look for the Voyager for cushion, but it is the best choice if you have a limited amount of storage space or will be using it over another mat. Just like you would expect creases in your clothes when you travel, creases are a natural consequence of folding the Voyager mat - effects will be minimized by keeping your mat rolled when not traveling.